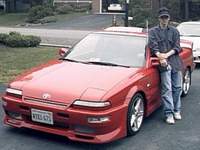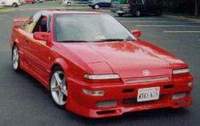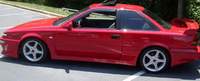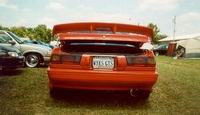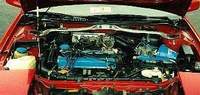 ALL-OUT RACING located at: http://alloutracing.netfirms.com
All-Out Racing
All Out, All the Time.
Michael Bouchard's Custom AE92 with Bomex Kit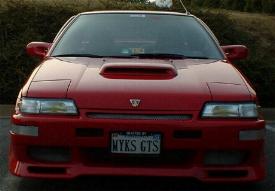 I got the car about 4 years ago and didn't think twice about the actual
car. I then found club4ag and realized, heck ya this car rocks. I
started off by buying 16 inch ASA rims with 205/40-16's wrapped around
them. I then added the custom side lights which i overpaid for :0( After
this i added my naxxos exhaust system which i put on myself. I then
slammed the car with ground control coil-overs which got raised a little
bit when i ate my two rear tires. (lower is not better) I then decided
to go on the hunt for a way to add an intake. That's when i realized i
had to buy an adapter. So i located my local performance shop and
bought a ractive intake and a metal adapter for my mass air flow sensor. I
installed that myself very quickly. I also found myself a nice touring
spoiler from JSP.


Then one day on the internet i found a picture of an orange ae92 with a
fly body kit on it. From then on I was on the hunt for the kit. I
finally found it on Bomexusa.com I bought the kit peice by peice from
toysport till i had the whole kit. Then i custom fitted the AE92 Trueno
kit to fit my non JDM Corolla GT-S. This took me about 2 weeks, the
hardest part turned out to be the rear because i had to custom mold some
siding.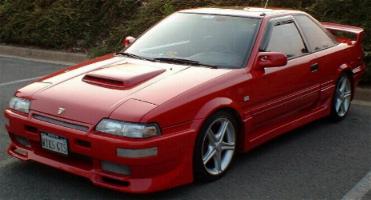 After all that I began to do major body work on my car including fixing
my dents and filling in holes from previous spoilers. When that was
finished i had a new paint job done on my car. I put it back to stock
red which is something like 3FE or something to that effect.
After the paint came the normal things like a custom grant steering
wheel, a tachometer with shift light, custom painted rear lights, and
custom fitted front lights. All done by me and my friends (johnny and
weasil: who also owns a white ae92)

by
Michael Bouchard