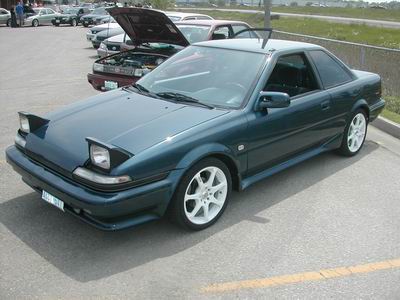 The car is a 1990 Corolla SR5, not alot of mods done to the engine.. Air intake system, headers, and a ractive muffler.
KYB struts on the front and Tokiko Struts on the back, Apex 1.6" drop all around. Metallic blue colour with 16" White Motegi Rims and Toyo Proxies FZ4's 205/40/16 on it.
Sony X-plode 600 CD player with a 600W Sony X-plode Amp and a 10" MTX sub with a sealed box. 6 x 9 Pioneer 3 way speakers on the back and a tweeter midrange combo on the front.
Full Xenon conversion including, Headlights, signals, foglights, reverse lights, and interior dash and dome lights..